Jogging in Winter?
Use these tips to stay fit and healthy even when it's cold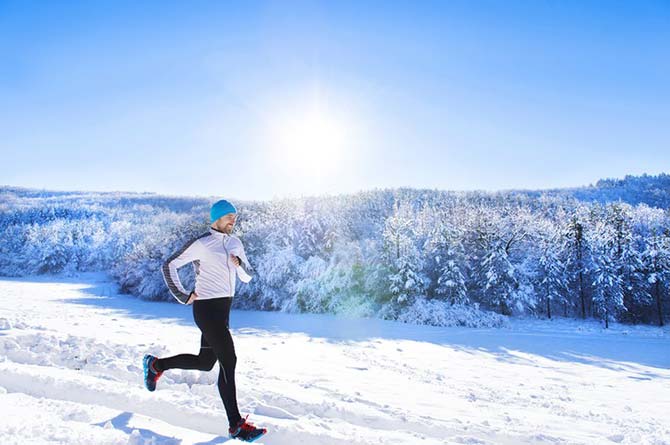 If you want to keep fit and go jogging even during the cold season, there are a number of things you have to take into account. Let us explain to you how jogging in winter can be completely healthy and what are the best ways to protect yourself against the cold while running. Read our tips and learn how to be optimally prepared for winter jogging!
Is it unhealthy to jog in winter?
Good for the Immune System
Jogging in winter enhances the body's powers of resistance. The Canadian Running magazine states, "Light or moderate running boosts our body's natural immune system". The emphasis is on moderation. If you run at a reasonable speed, you can train your body to resist coughs, colds and other infections.
And there is another argument for not giving up jogging in winter. Regular exercise makes for a reduction in stress, thereby also strengthening your immune system.
Risks when Jogging in Winter
Nevertheless, anybody who overdoes it, for example, by running too quickly or too far, is at risk of upper respiratory tract and bronchial infections due to the cold. Running in winter can damage your health in other ways, too. Wearing the wrong clothes can increase the risk of colds and your muscles may become strained if the warm-up phase is too short. You should therefore adapt your exercises and gear to the colder weather.
Darkness can also pose a danger to the runner. Headlamps and reflectors should be part of the basic gear for all joggers who are out and about on winter mornings or during the evening hours. In addition to this, wear brightly coloured clothing. This will increase your visibility by up to 150 meters.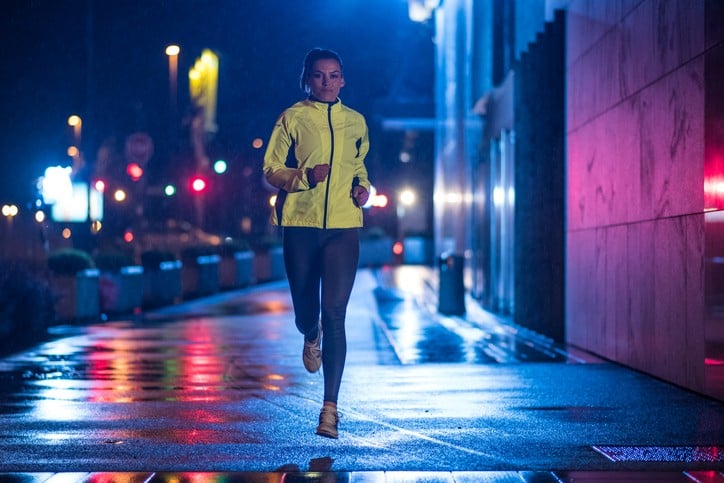 The Things you Need to Change when Exercising in Winter
When exercising in winter, you need to do a few things differently than in summer.
Increase your Warm-up Time, Shorten Cool-down Time
First of all, you should spend more time warming up. Plan to spend fifteen minutes on the warm-up instead of ten. Otherwise you may suffer from muscle strain or muscle cramps.
The opposite is true for the cool-down. You should cool down for a much shorter time than in summer. The best thing is to do stretching exercises in a warm environment. Ideally, you should change your sweaty clothes for dry ones before stretching.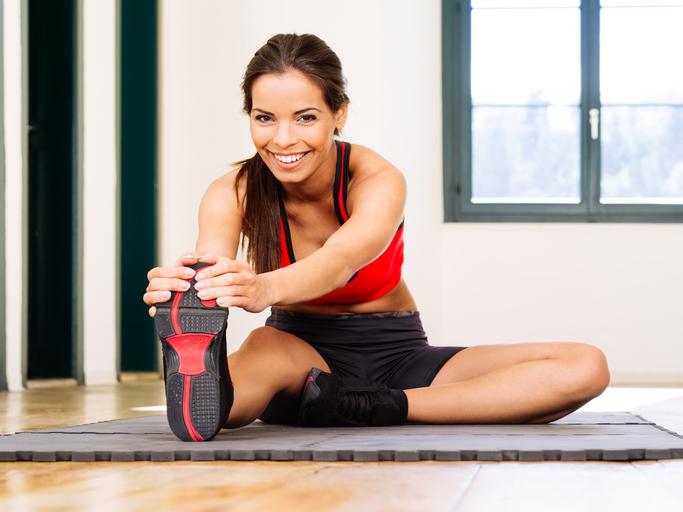 Correct Breathing. Protect your Respiratory Tract and Bronchial Tubes
Pay attention to correct breathing when running in winter. Avoid inhaling dry, cold air through your mouth. Otherwise, your respiratory tract and mucous membranes will become cooler. In addition to an unpleasant burning sensation in the lungs, this typically results in an irritable cough. If you already suffer from asthma, cold air can also cause breathing difficulties (so-called cold asthma). The solution is to wear a thin cloth in front of your mouth as a mask. This will help to make the air you are breathing in become warmer and moister before reaching your lungs.
Running even in the Cold
Sometimes the couch is the more tempting option. But there is no problem with going jogging even if temperatures sink below zero. Running at temperatures as low as -10 degrees Celsius (14 degrees Fahrenheit) is not harmful.
The Right Gear & Clothing when Running in Winter
The right gear is the essential factor when jogging in the cold. Instead of wrapping up too snugly, stick to the following tried and tested rule of thumb. When you step outdoors, you should feel a little chilly. Running will soon warm you up.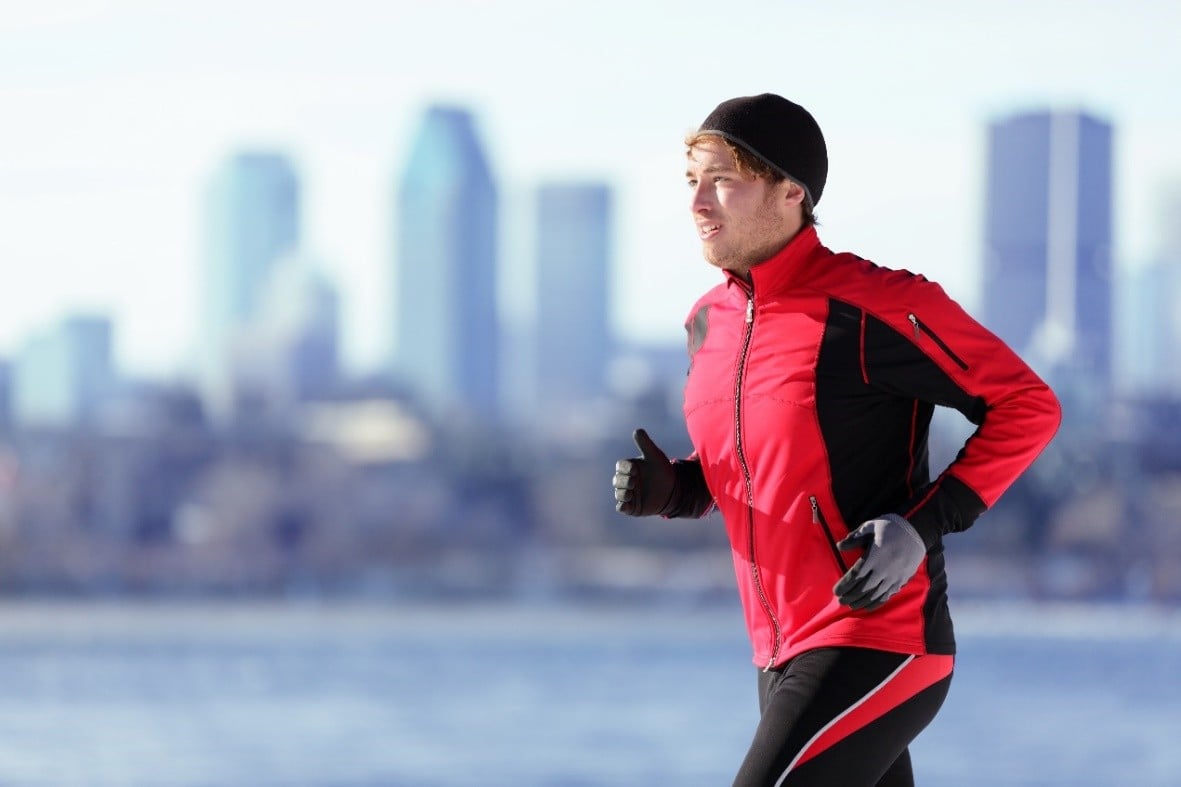 It is particularly important for you to protect your torso well when running in winter, as it is much more sensitive to cold than your arms and legs. The layering principle is the ideal here.
Layering Principle. Well Protected in 3 Layers
To be optimally protected against the winter weather, you should apply the layering principle, which combines three functional layers.
1. Functional Layer. Keep Dry & Warm
The first layer is worn directly over the skin and keeps you dry. It is crucial that sweat does not evaporate on your skin, as that would cool you down. The choice of clothing is entirely up to you, whether you prefer short or long sleeves, or a loose or tight fitting shirt.
2. Functional Layer: Insulation
The second layer is for heat regulation. A warming garment such as a fleece jacket or a special winter running jersey is the best choice. How thick should that second layer be? This depends on the temperature. Usually, the thicker the layer, the more it insulates.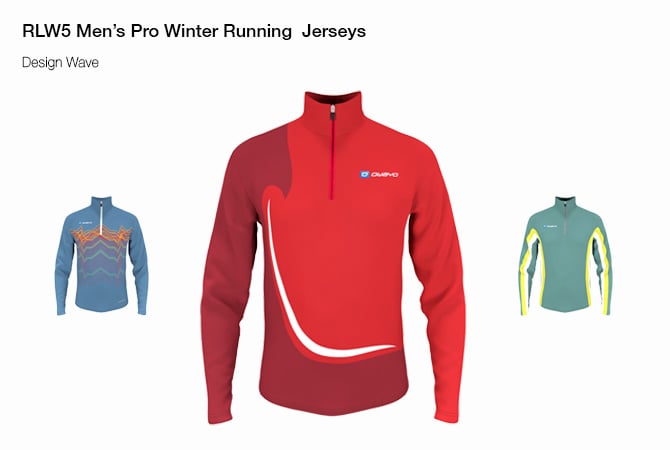 3. Functional Layer: Protection against Wind and Rain
The third layer protects you against wind and wet. Wear a vest or a jacket made of wind-proof and water-proof materials.
Softshell: Softshell jackets are soft, elastic and very light. They are therefore very comfortable to wear and give you a lot of freedom of movement. While the outer material of softshells is breathable and weatherproof, they are lined with roughened and warming fabric on the inside. The only drawback is that Softshell is not waterproof. Jackets made of this material are therefore not suitable for jogging in heavy rain.
Hardshell: Hardshell jackets are waterproof. While water cannot penetrate from the outside, the breathable material ensures that sweat can escape. Hardshells are clearly preferable to softshells as protective clothing in adverse weather conditions such as heavy rain or snowfall.
Protecting your Head and Hands
You lose body heat mainly via your hands when they are unprotected. The idea that most body heat is lost through your head is simply not true. However, it is a fact that there are many nerve endings in the scalp and face, which make them much more sensitive to cold than other parts of the body. Therefore, wear a cap and gloves when you are jogging so that you can feel comfortable in cold temperatures. Special running caps made of functional fibres are ideal, as they drain perspiration away to the outside, but do not absorb any moisture themselves.

The Right Shoes for Wet & Icy Conditions
Your summer running shoes are not suitable at all for autumn and winter. They lack the necessary support required for running in wetness, on slippery leaves and ice.
Good winter running shoes have the following features:

• higher absorption,
• high moisture protection,
• at the same time, great breathability,
• good grip of the outsole.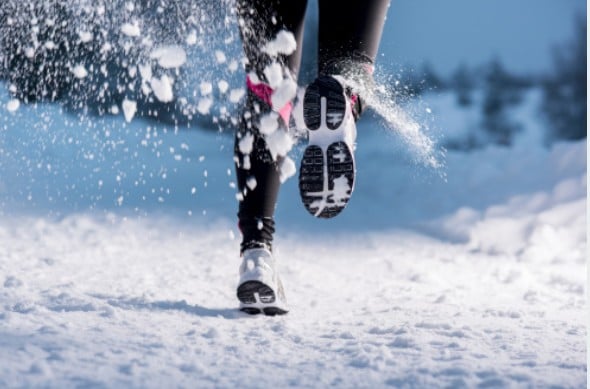 Good ventilation in the jogging shoe is important in summer but, in winter, shoes should primarily provide protection against wetness penetrating from the outside.
You can also equip your shoes with snow chains or spikes for a better grip when running on snow and ice. Indeed, some manufacturers offer running shoes with integrated dynamic steel spikes.
As long as you follow the most important "rules" for healthy and safe winter jogging, nothing will stand in your way when running even in cold and wet conditions:

• Everything in moderation: Run at a moderate pace and don't run too far.
• Increase the warm-up phase to about 15 minutes.
• Do your stretching exercises in a warm environment.
• Breathe through your nose or tie a thin cloth in front of your mouth.
• Dress according to the layering principle.
• Wear winter running shoes.
• Wear running clothes with reflectors and, if necessary, a headlamp.
You will then be very ready for jogging in winter. If you still need a suitable running jersey, you can get it from us. Get the heat-insulating owayo winter running jerseys for men or women and get started!
We hope you enjoy your winter jogging!
Images: image 1: © iStock / Halfpoint; image 2: © iStock/ simonkr; image 3: © iStock/ sumnersgraphicsinc; image 4: © iStock/ Maridav; image 5: © Owayo; image 6: © iStock/ Halfpoint