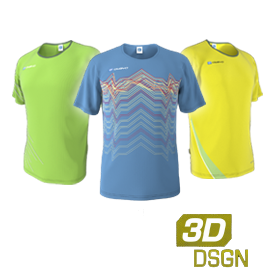 Easy to use 3D Designer
Thanks to our new owayo 3D Designer, creating your own running sportswear and apparal has never been easier.
Order any Quantity
Whether one or ten thousand shirts, you can order any quantity. Thanks to our German production facilities, your sportswear will be shipped when we guarantee ... continue to One or Ten Thousand
All-Included Pricing
At owayo, you can create your own running tops, just the way you like. Individual runners' names, colourful club logos and even photographs are possible and included in the standard price ... continue to My Design
Research & Development
When it comes to the craftsmanship of our clothing, we do not compromise. Painstaking attention to detail is given when making our products - perfect for both amateurs and professional runners ... continue to Research & Developement
owayo is an official supplier of professional sports and events worldwide
Design and Print running tops
We'd be happy to print your next order of running shirts. Below, we've outlined the path to ordering running kit:
Click on our 3D Designer and pick the product you'd like.
Pick from our numerous designs and over 50 colours.
Add logos, texts and sponsors and position them as you like.
Design your running shirts - here's how
Begin designing your own running jerseys: Pick the product you'd like and open the 3D Designer. There, you can pick between 50 different colours and designs. You place the logos, text, crests for your running kit and voila, done!
Here's how you order custom running shirts
Once you've finished designing your running jerseys, you can order samples, to figure out the sizes you need. Once you've found the right sizes, place the running tops in the shopping cart. Then you'll submit the order; our experts will take a careful look at the design to be sure there are no remaining questions. If everything is correct, we'll begin production. After a short production period, you'll have your running shirts in no time. When the time comes, you can reorder your design in any quantity.
Questions: We're here at every step
Do you have unanswered questions about sizing, lead times or reordering? We're always ready to help - contact us either per telephone or email, or you can contact us over the owayo website. Don't hesitate, we're here to help!