01.12.2022
We really enjoy our quick and helpful staff. Sadly this might be our last order because we need a material that works better for climbing. Also the women's fit isn't ideal for climbing.
21.11.2022
I love the singlet. Excellent quality. Definitely exceeded my expectations.
11.11.2022
Awesome product! The material is super comfortable! The design team did a great job making sure everything looked really sharp! I am stoked to wear my shirt for my half marathon! Thank you all! :)
11.11.2022
I was extremely satisfied with my product, the fast delivery, and the customer support. I would highly recommend to anyone looking to customize their own running singlet. Thank you!
10.11.2022
Really happy with everything. Website was great, easy to use and I was able to come up with an interesting design. Pricing was a little high for one unit, but understandable.
05.11.2022
None
15.11.2022
The product is very good. T shirts, running vests, long sleeved tops. Disappointed with my recent experience with Ian trying to add an extra item to an order & the non competitive unit cost.
owayo response:
Dear customer, thank you for your feedback. We manufacture to order, which also brings fixed costs that are included in our pricing. Larger orders have the benefit of splitting the fixed costs over multiple team members. Smaller orders in turn are more expensive because the proportional split increases the smaller the order remains. Naturally, our goal is to be able to over high end products and this also entails pricing that will cover the production costs. Thank you for your understanding.
04.11.2022
The overall experience was great! The design platform was easy to use and very customizable, the shipping was faster than the estimated date and the t-shirt looks and feels great! Highly recommended
02.11.2022
Very high quality material and printing.
Interested in more feedback and evaluations?!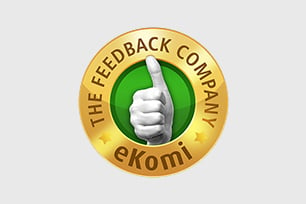 About eKomi
eKomi's goal is to track authentic customer reviews of various products. They offer a unique platform where consumers speak to one another based on personal experiences, and thus helping consumers identify reputable online businesses. We have been reviewed by eKomi since 2011 and have no influence on the ratings and feedback provided by our customers. Our customer feedback speaks for itself.