Custom Jerseys
owayo manufactures its own sporting apparel in order to provide our customers with the best customization experience possible. Create your own custom jersey by choosing the design, colors, inscriptions, and features. Make your designs how you want at the click of a button with our 3D Kit Designer.
Design your own jersey - this is how to do it
In just three simple steps you can design your own jerseys. Whether you play soccer, handball, hockey or any other team sport or if you play an endurance sport, only a customized jersey gives your team that special something and also strengthens team spirit.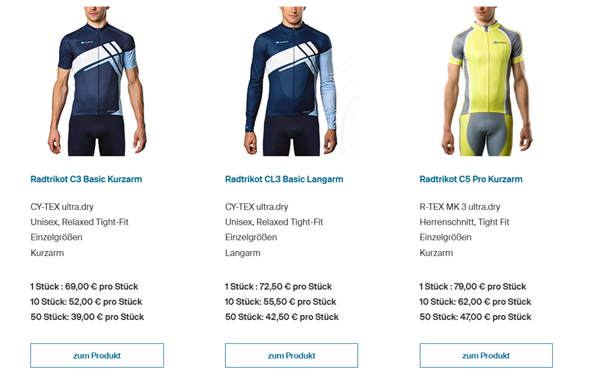 Choose a product
Under every sport there is a variety of high-quality products to choose from. All products are perfectly matched to the requirements of the respective sport. The highly-functional, breathable materials ensure that moisture is quickly wicked away from the skin. The cuts of the jerseys allow maximum freedom of movement and at the same time guarantee that you always look good during sports. Simply click on the product you want and open it in our 3D Designer.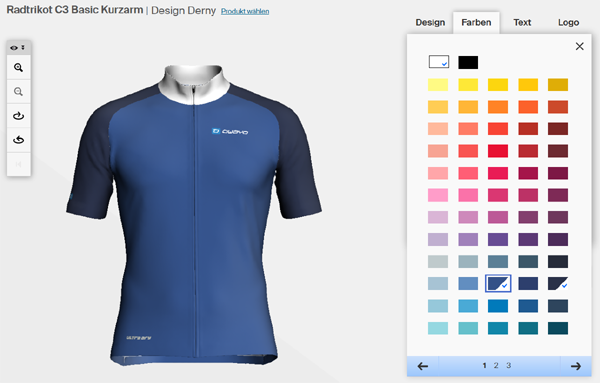 Choose a design and your desired colours
Now the customising actually starts. There are a lot of ready-made design templates to choose from. On one hand, the design templates cover the classic designs of your sport, on the other hand, there are also many modern motives to choose from. If you prefer a design of your own, which is not available in our design templates, our design service will be happy to help you.
Next, add your desired colours to the design. In our standard colour palette you will find more than 50 colours, which can be combined as you wish. In addition, we can always implement colours for you that are not included in the colour palette. To do this, simply tell us the colour you wish to have.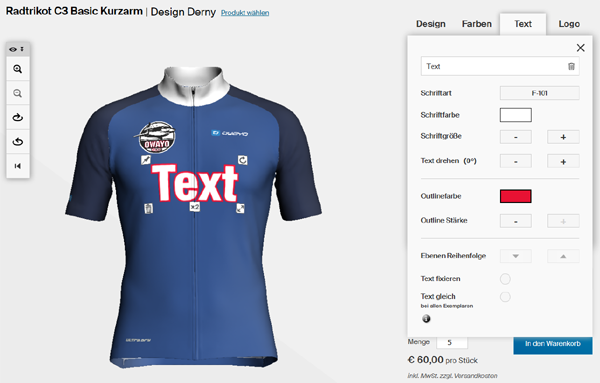 Add texts and logos
Your jerseys only become truly unique when you have added your logos, texts and sponsors. Simply upload your logos in the 3D Designer and place them freely on the jersey. Whether team name, team motto, player name, place of origin of the wearer, there are no limits to creativity. The number of possible texts per jersey is not limited, the number of logos that can be printed is just as unlimited. We hope you enjoy designing your jerseys!
Creating your own custom jerseys - From Start to Finish
Create your own jersey - in just three easy steps.
Select your desired product and open our 3D Kit Designer.
Pick between nearly limitless design possibilities and over 50 standard colours, plus more.
Add your own logos, text and sponsors in the 3D Designer. You choose where to place them.
Print your own Jerseys
Don't want to buy pre-made jerseys off the shelf? We create and print jerseys to your liking. Don't settle for ready-made jerseys. Design and create your own from scratch!
Designing Jerseys? - A How-To Guide
With our streamlined ordering process, getting your own custom kit is a breeze: First you choose the sport, then you pick a product and enter the 3D Designer. Then you pick the design template and colours. With us, you have the choice between a multitude of design layouts and colours. Lettering, inscription, numbers, name, sponsors and logos are all included within the price and can be placed anywhere.
The owayo Promise
We want you to be 100% happy with your self designed jerseys. We are by your side every step of the way. For any questions, we are waiting to help either by phone, email or through our 3D Designer. For special outside-the-box ideas, our design team is ready to help discuss these.
The owayo ordering process
Create and customize your sportswear easily with our 3D Kit Designer, where you can save and easily access your drafts. While designing, request samples to get the sizes you need. Once you know your sizes, place the draft in the shopping basket. We'll then take a careful look at the design to check the logo quality and graphic placement. Once finished, we will email you a summary of your order by email to confirm for production. Depending on the time of year, production takes 2 to 5 weeks. With a little bit of patience, your sportswear will be with you before you know it.