10/10
20.05.2019

Created the design and got it checked. A few improvements were advised and taken. Great work.
09.05.2019

All emails were answered quickly and everything was smooth through out the order. The shirt was expensive but I understand that as I was only getting one made
08.05.2019

Working with Tristan was an amazing experience and I cannot wait to buy another one. Talked with me on the phone as well as worked with me through emails. Top notch service!
08.05.2019

I have dealt with Owayo now for a few years and have always found the staff to be very helpful and prompt to reply to questions and querys your ordering process is easy to use your timescales are very good for production and you all come across as a highly professional organisation
08.05.2019

Absolutely brilliant service. Couldn't recommend this company enough. Shall use again.
26.04.2019

Website to design your own clothing is brilliant. Easy to use and the ordering process was good Only downside for me is the cost of postage. I paid £45 to have 2 tops posted from Germany to the highlands of Scotland. If I'd posted this to you, by Royal Mail, it would have cost about £5. To have to pay an extra £21 to post to the highlands when postage was already expensive was a real bug bear with me and almost put a stop to me ordering to be honest. It would make me look elsewhere before ordering in the future because of this. Other than that, you offer a superb service. I'd look into alternative options for postage though as this does let you down.
26.04.2019

owayo response:
Dear customer, sorry the shipping was so expensive for you. One reason for the high shipping fee was express shipping, which is of course more expensive than normal shipping. Another reason was that a remote area surcharge was necessary to reach your location in Scotland. Normally it costs about £8 to ship 2 tops to Scotland through us. We are looking for cheaper solutions for remote areas.
Service is excellent, very helpful and friendly staff
23.04.2019

Same as my above statements. I have nothing but positive feedback for the Owayo team
20.04.2019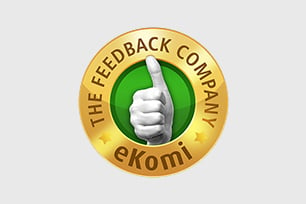 About eKomi
eKomi's goal is to track authentic customer reviews of various products. They offer a unique platform where consumers speak to one another based on personal experiences, and thus helping consumers identify reputable online businesses. We have been reviewed by eKomi since 2011 and have no influence on the ratings and feedback provided by our customers. Our customer feedback speaks for itself.