16.11.2022
Wie schon erwähnt, die Farbe die in der Designdisplay sind ganz anders als die die man auf der Designcheck bekommt. Ich würde mich freuen das die Bilder die eingetragen sind behalten deren farblichkeit das in der Designdisplay gezeigt wird, die Designcheckfarbe sind zu grell. Danke
owayo response:
Lieber Kunde, Farben werden an verschiedenen Bildschirmen unterschiedlich angezeigt. Das liegt an den Einstellungen des jeweiligen Gerätes. Wir bemühen uns, die Farben möglichst wahrheitsgetreu abzubilden, können aber nicht garantieren, dass die Farbdarstellung auf anderen Bildschirmen identisch ist. Vielen Dank für Ihr Verständnis.
15.10.2022
Ich liebe meine neuen Yogahosen! Der Stoff ist super weich und angenehm auf der Haut! Ich fühle mich darin total beweglich bei meiner Bewegungspraxis. Bei den Designs konnte ich mich kaum entscheiden, denn es sind so viele tolle dabei! Der Stoff und die Verarbeitung wirken sehr hochwertig. Happy me!
28.09.2022
Es hat total viel Spaß gemacht, die Hosen zu designen! Ging voll easy, selbsterklärend und dank der Tabelle hat auch alles super gepasst! Der Stoff ist sehr angenehm zu tragen und fühlt sich auf der Haut toll an. Ich hatte beide Hosen sowohl im Yoga als auch im Tanzen an. Mega gut!
16.09.2022
Die leggings sind mega schön! Ich bin verliebt… super comfy und bewegungsfreundlich :) Nur ein bisschen zu dünn, meine Unterhose kann man sehen als ich mich nach vorne beuge. Vielen Dank!
owayo response:
Vielen Dank für das Feedback. Wir haben bei den Yoga Leggings den Fokus bewusst auf ein angenehmes, federleichtes und komfortables Tragegefühl gesetzt. Der Stoff unserer Yoga Leggings ist sehr weich und geschmeidig. Unsere Hosen sind nicht auf Kompression oder Body-Shaping ausgelegt - es sind "Wohlfühlhosen", aus einem robusten Funktionsmaterial. (Von Frauen für Frauen entwickelt.)
Interested in more feedback and evaluations?!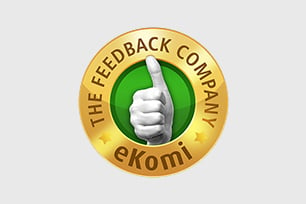 About eKomi
eKomi's goal is to track authentic customer reviews of various products. They offer a unique platform where consumers speak to one another based on personal experiences, and thus helping consumers identify reputable online businesses. We have been reviewed by eKomi since 2011 and have no influence on the ratings and feedback provided by our customers. Our customer feedback speaks for itself.